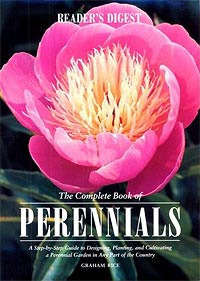 This is a book for gardeners first developing their interest in perennials and comprehensively covers designing borders, choosing plants, every practical aspect of growing the plants plus a comprehensive A-Z dictionary of the best varieties. The book is comprehensively illustrated in colour showing borders, individual plants with some lovely artworks of practical operations.

The British edition, published asThe Gardener's Guide to Perennials, is unfortunately out of print but is availble from me,;the Ameican edition published as The Complete Bok of Perennials by Reader's Digest still available. The book was also published as Bezaubernde Gärten mit Stauden (Germany), Politikens Store Staudebog (Denmark) and Le Grand Guide des Vivaces (France).

The contents

Part One: Growing Perennials
Acquring the plants
Site and soil
Planting
Care and cultivation
Pests and Diseases
Propagation

Part Two: Using Perennials
Planting styles
Beds and borders
Plant combinations
Choosing perennials

Part Three: Plant Directory

The book

11x8.5in. 240 pages, fully illustrated in colour throughout.
From the Reviews
'Graham Rice's extensive knowledge and expertise shine like a beacon throughout this book.... (he) recommends quality perfomers and precise cultivars worth searching out for particular situations.'
Penelope Hobhouse, The Garden