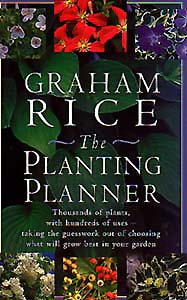 The most important factor in creating a satisfying garden is putting the right plant in the right place and this is the book that helps you do just that.

The idea is simple: almost 300 pages of lists of plants of every sort and for every soil and situation. So if you're looking for a dwarf, winter flowering evergreen shrub.... there's a list of the best. A ground cover plant for dry shade: there's a list of them too. Shorter climbing roses for small gardens: another list.

Each plant has a few crisp comments with advice on any special growing features and every plant in the book was available from a British nursery when the book was written and most from good garden centres.



 
A Selection from the Reviews
'Graham Rice's extensive knowledge and expertise shine like a beacon throughout this book.... (he) recommends quality perfomers and precise cultivars worth searching out for particular situations.'
Penelope Hobhouse, The Garden