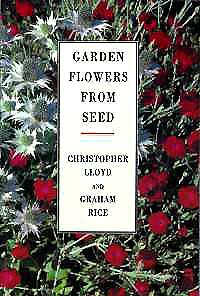 My collaboration with Christopher Lloyd, the unique conversational format of this book shows that although two gardeners may disagree with each other, both can still be right! So we both have our say about raising plants from seed and using them in the garden, and the individual contributions are marked so you can see who says what. Sometimes we agree, sometimes we don't.

Contents
Introduction - by Christopher Lloyd
Introduction - by Graham Rice
Sowing in Protection
Sowing Outside
Sowing in Cold Frames
A-Z of Garden Flowers

The book
Paperback; 9in x 6in; 312 pages; 59 colour pictures.

Selections from the Reviews

'The authors' sense of excitement is apparent on every page of this stirring book'
Miranda Innes, Country Living

'An extremely informative book written with verve and style'
Bob Pearson, Daily Telegraph

'The book certainly succeeds as an interchange of ideas between two well-known authors.'
Chris Grey-Wilson, Kew Magazine