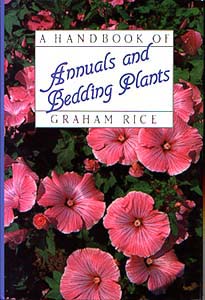 My first big book, and for many years the only comprehensive book on these greatly underrated plants. The book includes detailed explanations of propagation techniques, suggestions for effective plant associations and recommendations of the very best varieties - and condemnations of a few bad ones.


Contents

Raising the Plants:
Seed and cuttings
Buying Seed
Sowing Seed Outside
Sowing Seed Inside
Buying Plants

Cultivation
Soil Preparation
Planting
Pinching & Dead-heading
Weeding
Watering & Feeding
Staking

Pests & Diseases

Display
Mixtures
Informal Arrangements
Carpets
Left Overs
Temporary Plantings
Planting in Perennial Borders

Colour
Contrasting Colours
Different Shades of the Same Colour
Matched Strengths of Colour

Containers
Tubs & Troughs
Hanging Baskets
Window Boxes

A-Z Annuals and Bedding Plants


The book
Hardback; 9.5in x 6.5in; 272 pages; 20 colour pictures; 51 line drawings and maps.

Selections from the Reviews

'Rarely have I come across a new gardening book less soporific in its effects.'
Christopher Lloyd, Country Life

'Stuffy it isn't. Inspiring and practical it is. The book is a joy.'
John Negus, Hortus

'It is wonderfully practical and enthusiastic - essential reading both for those starting out on this tantalising road of discovery and for old hands.'
Rosie Atkins, Today

'It literally provides the answers to everything you could possibly want to discover about annuals.'
Pat Dunne, Connacht Tribune

'A jolly writer'
Time & Tide

'There's a strong life force pulsating here.'
Christopher Lloyd, The Guardian