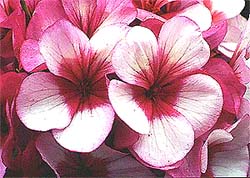 Type: Half-hardy annual (perennial in zone 9 and above)
Height: 12-15in/30-38cm
Season: Early summer to first frosts
Situation: Beds or containers; full sun to half shade, good soil.
Really good bicoloured geraniums always have been relatively scarce but in recent years two very similar and very attractive varieties have arrived.
'Venus', bred by an English company, and 'Maverick Star', from the United States, are almost identical. They make stockier, chunkier and slightly leafier plants than most geraniums, they do better in poor conditions and fewer plants are needed to fill a planting.
But it's the flowers which are so thrilling; a number of geraniums with white-centred flowers (like 'Hollywood Star') have appeared over the years but these are the first with a dark eye set against white petals. The petals also have red backs and red picotee edges, the sparkling effect makes them invaluable plants for containers. It's a strange coincidence that two varieties with such distinctive yet similar flowers should appear from different sources in the same year.
'Maverick Star' was followed by more colours to form the nine-colour Maverick Series. This series is now being used increasingly for bedding; they make such substantial plants that slightly fewer plants are needed to fill a given space. The only drawback to both 'Venus' and 'Maverick Star' is that in cool conditions the white flower colour becomes tinted with pink and this lessens the impact.
Try either variety with the silver foliage of Senecio cineraria 'Silver Dust' and the red-and-white bicoloured Verbena 'Pink Parfait'.